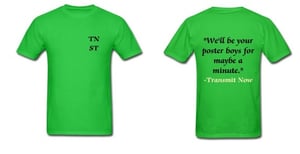 $

25.00
This is a t-shirt that is created by you! On the upper left corner on the front of the shirt it will have TNST, but on the back is the Transmit Now lyric you choose!
It's a Classic-cut standard weight t-shirt for men, 100% pre-shrunk cotton
***PLEASE NOTE THAT THE PICTURES ARE NOT THE ONLY COLORS OF SHIRT YOU CAN GET. ALL COLOR OPTIONS ARE AVAILABLE IN THE SCROLL DOWN MENU***
When you order, make a note saying what color of text you would like on your shirt and what lyric you want. Please don't pick a long lyric as it won't fit on the shirt. When you go to pay, underneath your shipping address, it should say "Note To Seller" and you can add it there.
If you need a bigger size, it can be done, but it will cost more. Contact me and I'll get you a price. The same goes for if you want/need a male shirt.
TEXT COLOR OPTIONS: Black, White, Cream, Yellow, Gold (non metallic,) Orange, Maroon, Chocolate, Red, Magenta, Pink, Lavender, Purple, Navy, Royal Blue, Powder Blue, Green, Forest Green, Teal, Light Green